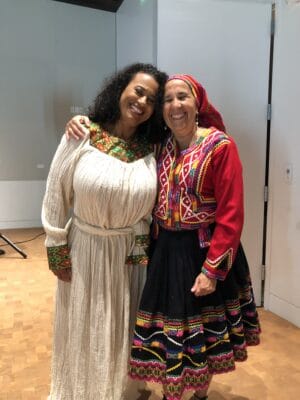 Teaching Artists Habiba Addo & Luciana Proano
Recently we partnered with our friends at the Patricia Reser Center for the Arts to throw an Arts Resource Happy Hour for educators!  Teaching Artists presented the incredible teachings, workshops, assembly offerings that they bring to our schools and students.  Even for those of us as staff who have never seen these performances, we were all blown away!  We really have a very seasoned and excited pool of teaching artists working with us.  Please enjoy the snip of our Happy Hour below.
Extra thank you to those of you who attended. We had a great time meeting you all and introducing some possibilities for your schools! If you weren't able to make it but are inspired just the same, below we have tagged all who were in attendance.
Location: @reserartscenter
Table stations: @clay_bird_nest @beth.wilson.art @lulumoonwoodmurakami @jenhernandezart
Stage performers:
@lauramsams @inka_jam @luciana.proano Habiba Addo @danceyourheartoutllc @unitsouzou Ali Ole @oregonchildrenstheater
Arts Organizations:
@beavertoned @broadwayrosetheatre @etc_pdx@h2mtheatre @playmys @oregon.ballet.theatre@oregonchildrenstheater @pdxjazz @stages_pyouthacademy@playmys Northwest Children's Theater @reserartscenter@artsforlearningnw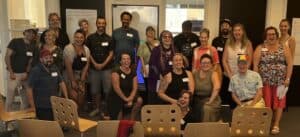 In other news!  Teaching Artists gathered for a Fall Kick Off.  A few words below from our Artist Programs Manager, Maia.
"Every fall we invite our roster artists for a fall kick off. The purpose of this event has always been two-fold- to provide information artists will need as they start getting requests for residencies and performances, and to provide artists who often work in isolation time to connect with each other. This social connection, honoring existing relationships and inviting new ones, felt especially important this year as we keep talking about a return to a normal that often feels anything but. We offered two kick-offs this year and had double our traditional attendance. I was heartened to see so many artists make time to attend and so happy that even in our virtual kick-off it felt like real human connections were made. I think about the importance of structure and relationship in learning and how often we allow the structure to influence the relationships. What TA Kick Off reminds me is the importance of also allowing the relationships to influence the structure." – Maia
As the new school year is in full swing, ALNW is so deeply proud of our the teachers we get the absolute privilege of working with and whom we are thrilled to continue to bring their excellence to Portland, SW Washington and Central Oregon schools, workshops and programs for Oregon youth!  We hope to offer this type of event again in the future in partnership with Reser, and will definitely continue our Kick Off tradition, so keep your eyes out for an invite from us next year as well!