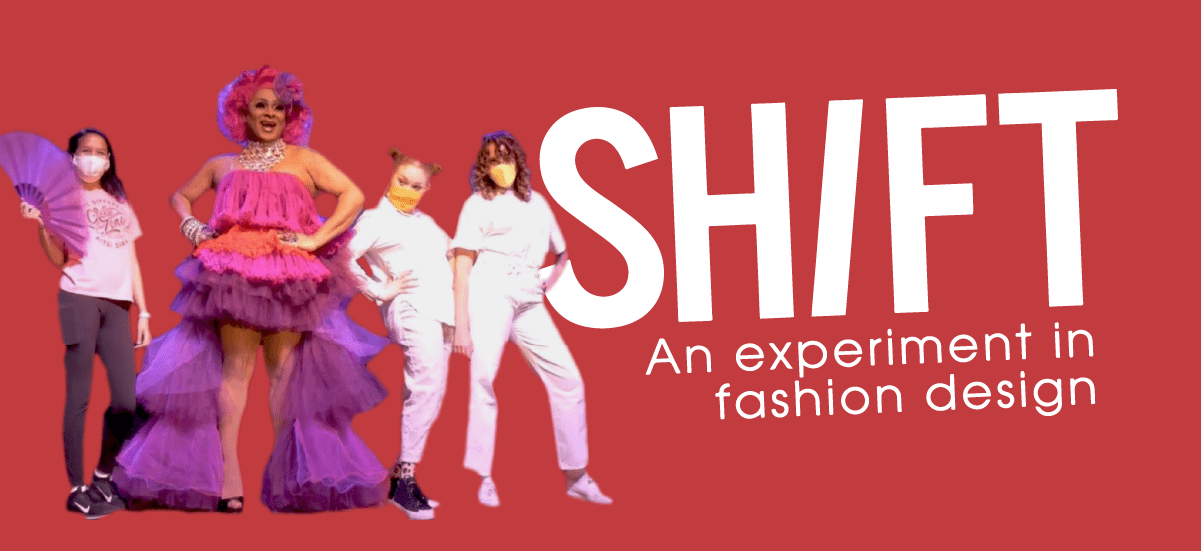 Youth Designers:
Sharpen your pencils and apply to be a teen designer for SH/FT, an experimental fashion show where you can flex your creative design muscles by collaborating and creating alongside a professional designer mentor.
You and your team will dream up and fabricate a garment made of found and recycled materials. The finale will be a beloved drag queen walking your final design down a runway!
The fashion show will take place late May in front of a small audience of design teams and Arts for Learning Northwest supporters. This fundraiser will help support Arts for Learning to provide more arts education opportunities to young people in our community.
Sounds like fun? Here are the details:
Open to youth ages 14-18

No experience required

Must be able to attend virtual and in-person meetings every other week

Collaborative group meetings January through April



Adult/Mentor Designers
Each team of three students is assigned to one adult/mentor designer. Each design team will be assigned a drag performer who will model the work. This design team will work together through the design process including ideation, sketching, design work, material choice, prototyping, and final construction of garments. Final garments will then be debuted at a fashion show by the team's drag performer.
Details
Mentor designers are expected to work with the students through the full process and encourage them their participation. Arts for Learning staff will be available to support.

Youth designers are expected to help construct at least one piece of garment

Garments must be made of at least 75% recycled or reused materials

Expected to pass a background check.

Drag Queens will be responsible for their own hair and make up
Time Commitment
Program Kick Off meeting December 5th from 6:00-7:30 pm

Design team will meet 8 times or more from January to April (virtual and/or in person)

Final design concepts and finished garment due by the end of April 2024

Recorded, live fashion show displaying garments in mid-May 2024
Compensation
$2,000 stipend for your work

$500 stipend for supplies
Contact Allena to learn more about this mentoring opportunity: 

[email protected]
Subscribe to our newsletter to get the latest news about future events and updates.