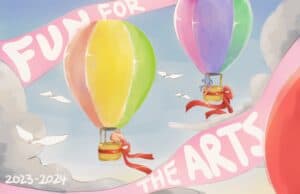 FFA 2023-2024 design by Zixin Fang
On October 31, hundreds of students at 11 schools across the region held a 30-minute dance-a-thon which collectively raised over $15,000 for arts enrichment, supplies, and trips at each participating school's discretion. Huge thanks to each dancer, each donor, and each school champion who worked with ALNW staff and board behind the scenes to implement the dance-a-thon at their school!
We were able to catch up with our Fun for The Arts (FFA)  2023-2024 design winner Zixin Fang!  Zixin was an 8th grader at Lane Middle School when Zixin created this design, now a freshman at Franklin High School. Zixin's winning design is featured on this year's FFA campaign both online and on print posters at and around participating schools. Check it out HERE and enjoy hearing from the artist below! 
Hi Zixin, we love the design you created for FFA this year. Tell us about your artistic process in creating this piece.  What inspired you?  
The thing that inspired me the most is mainly just the thought of free. For me, creating art is a way to express something and to have  freedom on what to do with it which, which i hold that thought when creating that piece and used large and small text to represent free in a way!
What medium did you use to create this piece and what are you most proud of when you look at this piece?  
I used a graphic drawing tablet by UGEE, the most proud part of it for me is how the ribbon turns out, if shows the wind that is leading them.
Can you tell us about your concept?  Why the balloons in the air?  
the ballon was meant for the idea of free, of how the endless possibilities you held and where it will lead you.
How long have you been making art like this?  
i had been making art for about 6-7 years ever since around 2nd grade in elementary school. I took art school when im younger and later moved to the United States from china and no longer attend art school snd started to self taught myself.
Do you share your art in other online spaces that you would like to share with us?
yes! I do post some arts on twitter and other places as well and i would be happy to share :)
What do you hope people feel, when they look at this piece?  What do you feel?
i hope when other people look at that pieces, they would feel a sense of happiness.
How did you hear about this?
i heard about it from my art teacher at school and choose to give it a chance.
Anything else you would like to share with us?  Any encouragement for other folks who want to create a design for FFA next year?  
I think for other people, just simply enjoy it and don't worry about it too much! :)
So there it is folks.  From art teachers in schools to the students in class, this is how our FFA design contestants find out about this opportunity, and apply.  Every design that comes in is so unique and special.  We want to thank ALL of the contributing students who submitted their designs with us.  We loved each one!  And thanks to Zixin for sharing more about their creative process.  To see more from Zixin follow them at (waiting for their info)!  
Did you know Fun for the Arts is a decades-long tradition in our region? We kicked off the first Run for the Arts jog-a-thon in 1977, and over $18 million of arts funds have been raised over the years! Longtime sponsor Oregon Screen Impressions has been an incredible partner in this work, bringing student art to life on t-shirts and posters. Here's a memory from over 30 years ago from owner Chris:
Truly was an era. I remember so vividly the first phone call in about Run for the Arts tees. It was New Years day probably 1991 and I was at work…so odd to get such a call on a holiday and I think we did 20,000 shirts that first year.
We're so thankful they answered the call!