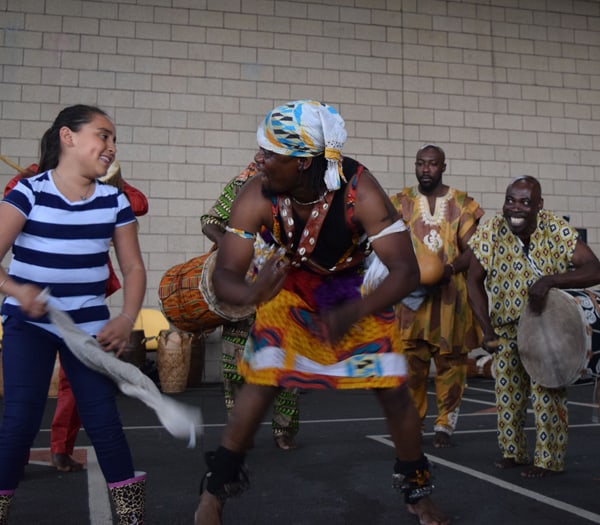 About Arts for Learning Northwest
Arts for Learning Northwest believes in the power of arts learning to ignite children's innate curiosity and creativity. Guided by its mission — to inspire young people and expand their learning through the arts — we connect with individual artists and support them as members of our Teaching Artist Roster.
We do this by functioning as an organizational umbrella for individual artists and ensembles, offering logistical and administrative support with school contracts; opportunities for ongoing professional development; and the creative support of a community of peers.
What is the Arts for Learning Artist Roster, and who are the roster artists?
The Arts for Learning Artist Roster is composed of individual and ensemble teaching artists and school performers who sign a master contract to operate as an independent contractor with Arts for Learning NW.
Arts for Learning roster artists receive residency, workshop, and performance requests from schools. They plan, schedule, and sign contracts directly with the school. The support of Arts for Learning staff is available to artists along the way.
Arts for Learning also works with artists, students, and schools to develop in-class and out-of-school programs with a special focus. Some of these include The Right Brain Initiative, with a focus on arts integration, and LiveSET, and SH/FT, with a focus on Career Technical Education.
Additionally, Arts for Learning strives to advance the profession of teaching artistry through ongoing learning, peer mentorship, and community connection.
Arts for Learning Programs
Artists on the Arts for Learning NW roster interact with schools and other educational entities in a variety of ways. Arts for Learning Northwest programs include:
Student Workshops
1–2 sessions
50 minutes each
Typical group size: 25–30
Teacher Workshops
Professional development of a specific artform or arts education topic
One session of 90 minutes
Typical group size: 15–20
Residencies
3+ sessions with the same group of students (a typical residency is 5 or 6 sessions long)
Skills-based or arts integration
50 minutes each
Performances
A single or back-to-back performance at a single location
50 minutes in school performance(s)
Typical audience size: 250
Family Art Night Performances or Workshops
School day programs adapted for evening events
Benefits of becoming an Arts for Learning Roster Artist
All Arts for Learning artist programs are listed in our Artist and Programs Guide that schools and organizations use as their "arts experience" catalog for the year. Our programs are available to schools in 10 counties in the Portland Metro/SW WA area and 3 counties in Central Oregon as outlined by the Arts for Learning Service Area.
Arts for Learning staff are here to help with the logistics of contracting and invoicing, marketing to schools, new program development, ongoing program refinement, and more. Arts for Learning is also committed to the ongoing learning of artists on our roster. 
We offer a full range of professional development opportunities from single workshops or information panels to our Teaching Artist Studio, an intentionally multidisciplinary learning cohort. These opportunities are available to the larger community for a small fee, and free to the Arts for Learning Artist Roster.
Arts for Learning believes in supporting relationships between artists on our roster. We host opportunities for artists to connect socially as well as professional learning communities where teaching artists can collaborate to improve their work.
A fuller picture of artist support can be found here:
Benefits of being an Arts for Learning Teaching Artist (PDF)
Becoming an Arts for Learning Artist
Arts for Learning is committed to breaking down racial and economic barriers to access and equity that exist in education and the arts. We value experiences in which students are active participants, and believe people learn best when they are treated with respect and dignity. Arts for Learning looks for teaching artists who embody a spirit of lifelong learning and have a commitment to creating programs that are accessible to all learners. 
We are now accepting Letters of Interest for interviews in Spring 2024!
We accept Letters of Interest Survey on an ongoing basis and interview potential artists once or twice a year.
Artists are encouraged to submit Letters of Interest throughout the year, this allows for more individual attention to each submission. 
Our Artist Program Manager regularly meets with interested artists to answer any questions and describe our work in more detail. If you are interested in being a Arts for Learning NW Roster Artist you are encouraged to email [email protected] or submit a letter of interest survey now.