Arts for Learning Northwest offers a variety of professional development opportunities that aim to address both parts of the teaching artist experience: artmaking and education. These events cover a variety of important topics for teaching artists, from current educational trends to logistical and health concerns, to the ongoing practice of engaging every student in the room.
Upcoming Workshops & Events
Sorry, we couldn't find any posts. Please try a different search.
Previous 2022-23 Workshops
Thursday, June 15 | 12:00pm -1:00pm
Want to learn more about working with students in local schools?  Please join Arts for Learning Northwest and The Right Brain Initiative to learn more about our roster, programming in schools, and the life of independent teaching artists.  June 15th, noon to 1:00 p.m. at the Oregon City Library.
___
Thursday, June 22 | 10:00am -12:00pm
Hybrid: Virtual via Zoom,  In person, ALNW office: 1220 SW Morrison Street Suite 1000
Click on the title to register.
Please join us as a panel of elementary school teachers and administrators share their experiences of how schools have changed since reopening during the COVID-19 pandemic, and what scaffolds now work best to help students participate in special programs. The panel will share experiences and offer ideas and there will be time for Q&A from participants. This information will be relevant for in class teaching artists as well as school performers.
___
Saturday June 24 | 10:00am -1:00pm
In person, ALNW office: 1220 SW Morrison Street Suite 1000
An invitation for Teaching Artists of all modes of creative expression, skill levels, life experiences and areas of expertise to expand and invigorate yourself as the school year comes to a close and the summer begins: Make a book using paper circles!
This unique book could be a healing journal, a summer trip travelog, your sketchbook for working drawings of whatever you are planning, growing, gardening, creating or writing next. Using the circle in our work re-frames, re-shapes & re-informs our relationship with ourselves and our processes of existence.
Saturday, February 25 | 10:30 am-12:00pm
Join activist, author, and creator of Queer Kid Stuff, Lindz Amer, for a professional development workshop all about working with gender-expansive youth in the arts. They'll talk through basic gender and sexuality 101 topics with kid-friendly definitions, go over LGBTQ+ inclusive classroom strategies specific to the needs of teaching artists, and end with an in-depth q&a!
Friday, November 11 | 1:00-2:15 pm
A Teaching Artist Studio Panel Discussion on Zoom
Teaching artists and their school based collaborators from across the state discuss the dynamics of a rich, meaningful artist/educator partnership and how that collaboration can deepen student experiences.
Friday, November 18 | 1:00-2:15 pm
A Teaching Artist Studio Panel Discussion on Zoom
Practitioners from the field of teaching artistry discuss the importance of and share approaches to creating a safe and welcoming learning environment. Topics discussed include antiracist and trauma informed care practices, social emotional learning and liberation education.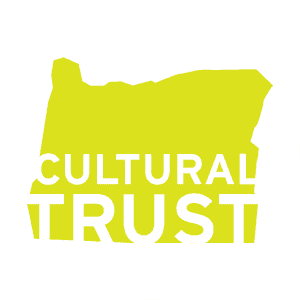 This program is supported in part by the Oregon Cultural Trust.