We are so lucky to have Grey Turner with ALNW during the summer as one of our Summer Camp faculty who works with students and teaching artists alike.  We wanted to ask Grey a few questions about his experience working with ALNW youth in our summer programs.  Learn more about our summer camp programs from Grey below!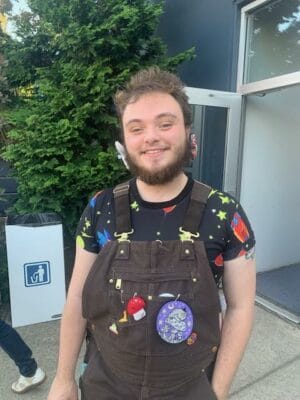 Can you share with us some highlights of where you saw play and art really showing up in summer camp?  What were these activities and why did they stand out to you? 
One of the activities that stood out to me was from the teaching artist Beth Wilson. She would do warm up activities with the students to engage their art brain at the start of class, and then have them draw creatures straight out of their own imaginations. The prompt she used was, "if you could have any companion animal/pet/friend/ally, what would that look like?" After drawing them, she had them make it out of paper mache. It was really wonderful to see the whole process unfold from concept, to drawing, to a tangible 3D product. I think it was also really exciting for the students to experience as well.  
Another teaching artist, Anna Hoye, had some awesome activities for the campers to explore. She works with cyanotype photography, sometimes called sun printing. She brings in bins and bins of found objects. These range from bike chains to plastic magnetic letters to foam stickers to beads to string and fabric. The students get to dig through the bins to find objects for their cyanotypes. They use these objects to create abstracted portraits and designs on top of the light reactive cyanotype paper or fabric. The creations get brought outside to expose in the sunlight, and then they are developed in water baths. This is such a fun process for the campers to be involved in. Anna makes sure to emphasize being brave and experimenting with different shapes and ideas. 
The last example I have popped up a few times during free drawing time. There were several campers who came up with long and elaborate stories that went along with the drawing they made, like their art was just one snapshot of a whole world they were imagining. 
Do you have any photos of your favorite summer art projects from Da Vinci school that you would love to share with us and explain what we are looking at?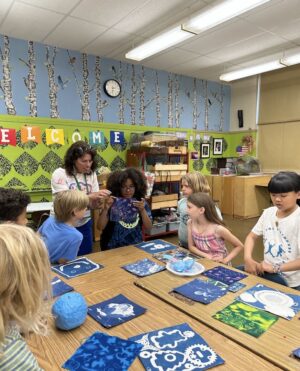 This is Anna leading the class in discussing their prints. She asks them to point out their favorite part and one thing that was surprising. This gives the students a great opportunity to learn from each other.
What does art and play in summer camp mean to you? 
Art and play is what summer camp is all about: it's a place for students to have fun and explore without being graded or worried about the academics of it all. 
Why do you enjoy working with youth through ALNW summer camp program? 
I really value the accessibility, it's a free program, some of the campers don't have access to work so closely with so many different artists during the school year. ALNW is also very student focused. We always want to work with a student to ensure they're having a good time, not just completing the projects we want them to. If they have a different idea or something they are more interested in, that's okay! We encourage that exploration because we know everyone is different. What might be inspiring to one camper might be boring to another.  
What do you think the importance of play  in creating and making art holds for youth?   
The first thing that comes to mind is there's a lot of people who say "oh I can't draw" or "I'm not an artist." But that's not true; everyone can be an artist. There's so much pressure for people to be perfect at new activities during their first try. I think art is a medium where you can't be told you did it wrong; there's just no wrong way to do something as subjective as art. Play allows you to explore expressing yourself through art without the pressure of getting it right or wrong.