Fun for the Arts Design Contest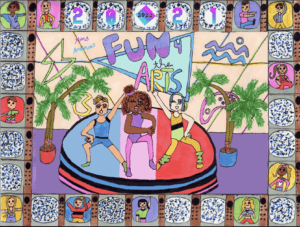 Since 1977, Arts For Learning NW has helped schools secure nearly $18 million dollars for arts experiences and has become an established Northwest tradition. One of the most exciting parts of this tradition is the yearly student-designed and printed materials.
Your student's artwork could be featured all year long
Designs should incorporate themes and images relating to Arts For Learning NW Fun for the Arts, including a variety of art forms (theater, music, dance, etc.) and community.
Submissions must come from K-12 students in Oregon or SW Washington
All submissions must include entry form signed by the student's parent/guardian
One design entry is allowed per student
Collaborative work is allowed. The prize would be split amongst collaborators. Each student must submit a separate entry form
If digital, send submissions to: [email protected], name file: "student name_grade_schoolname" ex. "kokoolszewski_3_woodlawnelementary.jpg"
If paper, mail to: Young Audiences: 1220 SW Morrison St, Suite 1000, Portland, OR 97205
Design contest is now closed, stay tuned for next year!  Links below.