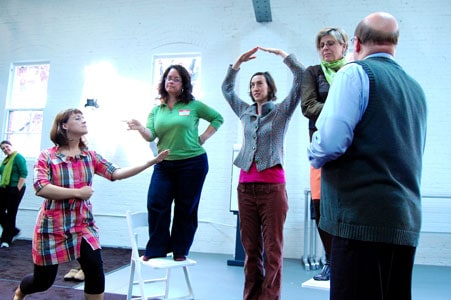 From the outset, Right Brain has been lauded for providing ongoing support to teachers, principals, and teaching artists with robust, research-based professional learning opportunities.
There are three key pieces to our teaching training.
1. Each school has an Arts Integration Leadership Team (AILT) made up of teacher leaders who model arts integration for their colleagues and tailor the school's professional development to meet the specific needs of their students.
2. The Right Brain Arts Integration Coaches support teacher leadership teams by modeling arts-based instructional strategies, helping to connect strategies to artist residencies, and guiding teachers in adopting arts integration as an ongoing practice. Professional development is available to school staff through staff meetings, Professional Learning Community meetings, grade-level workshops or one-on-one modeling and coaching in the classroom.
3. Right Brain teaching artists introduce classroom teachers to art disciplines and arts-based teaching strategies through staff workshops and classroom residencies.