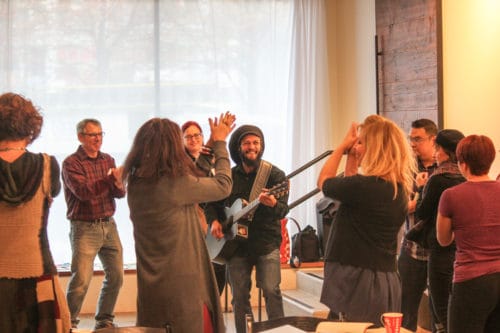 | | |
| --- | --- |
| Tues, Aug 1, 2023 | Application cycle opens |
| Sun, Sept 3, 2023 | Applications due |
| Mon, Sept 11, 2023 | Notification of accepted participants |
CORE COURSE: ZOOM
November-December 2023
(Final Session April 2024)
Daily work will include group discussions, arts activities, analysis, and presentations from guest speakers and panelists relating to the multi-faceted work of a teaching artist. There will be one to two hours of work outside of the group meetings each week.
10 am-3 pm with 1 hour offline lunch break
SMALL GROUP MEETINGS:
IN PERSON
January 2023-March 2023
Small groups will meet 3-5 times in-person locally around Oregon to reflect on concepts from the core course and further develop your teaching practice. Meetings will be supported by Lane Arts (Eugene), Arts East (La Grande), Oregon Coast Council for the Arts (Newport), Arts in Education in the Gorge (Hood River) and Arts for Learning NW (Portland Metro, Bend). Specific times and dates for sub-cohort meetings will be determined by the group.
STUDIO RESIDENCY
January-March 2024
For this optional portion of the program, participants may propose an area of their work in the TA Studio to research and develop further. The intended result will be the development of a new (or revised) lesson plan, and the opportunity to test it on a group of young learners. These teaching artists will receive one-on-one mentoring with mentors from the state-wide partner organization staff, as well as feedback on one of their classroom days.
Core Cohort Sessions: All dates below are virtual (Zoom) meeting days from 10 am to 3 pm. Times include an hour offline lunch break.
     Thursday, November 2nd: The Reasons We Teach
     Friday, November 3rd: Focusing Our Work
     Friday, November 10th: Lesson Design Strategies
     Friday, November 17th: Authentic Assessment
     Friday, December, 1st:  Building Learning Environments
     Thursday, December 7th: Making Learning Visible
     Friday, December 8th: Reflecting Forward 
Small Group Meetings and Studio Residency (January-March)
Final Session: Friday, April 12th: Final session: Reflection, Synthesis, Celebration (Zoom, 10 am-3 pm)