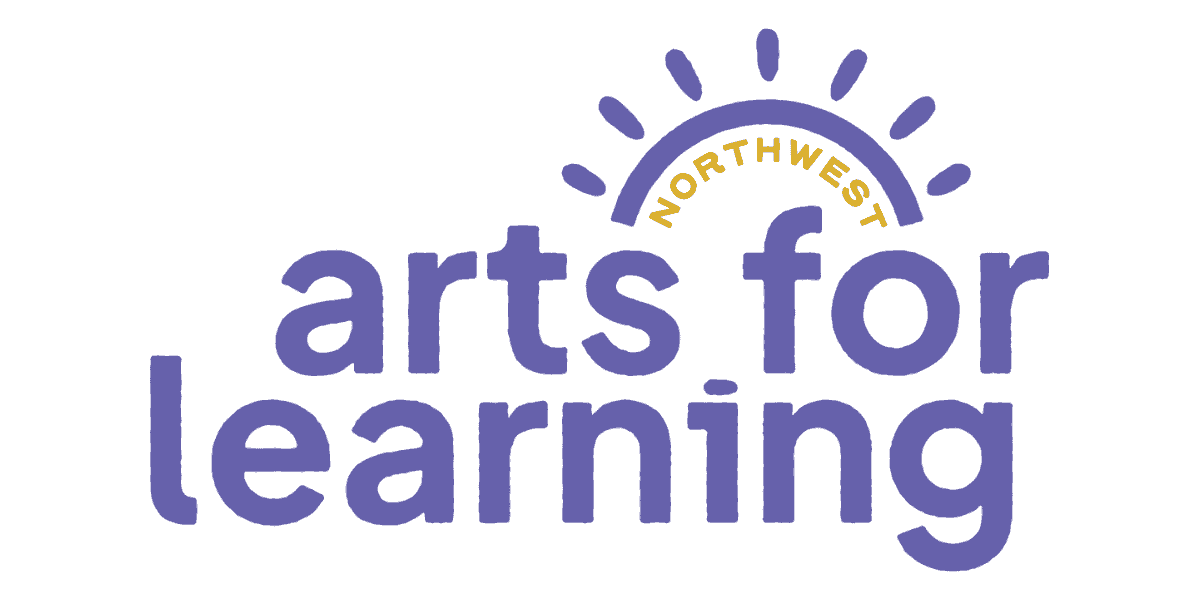 The region's leading arts education provider announces a new, updated name and mission inspired by their commitment to accessibility and equity.
After 65 years as the region's leading provider of arts education, Young Audiences of Oregon and SW Washington is changing its name to Arts for Learning Northwest. This change reflects the evolution of our organization from a presenter of classical music for school audiences in the 1960's to a champion for abundantly accessible arts education that includes artist residencies, robust arts integration, and features a diverse roster of over 70 artists and ensembles that bring innovative and inspiring art, music, theater, and dance experiences to over 50,000 young people every year. We no longer limit our vision of young people to being just passive audiences, we engage with them as creative artists and change-makers who are shaping the future of our region.
At Arts for Learning Northwest, we believe that the arts are a fundamental part of the human experience, and all children deserve access to diverse arts experiences as a part of their education. Our new name is one component of an organization-wide recommitment to equity and accessibility, which are the foundation of our work.
Our mission is to connect young people with diverse arts and creative experiences, and make the arts abundantly accessible in their schools and communities.
Our mission is to connect young people with diverse arts and creative experiences, and make the arts abundantly accessible in their schools and communities. Our programming will continue to provide schools with artist residencies, hands-on workshops, and performances in a service area that includes Portland metro, five counties in SW Washington, and three counties in Central Oregon, as well as offering out-of-school teen career connections programs in sound engineering and fashion design. Our new mission and name are a part of our commitment to serving the schools and children in our community who are historically marginalized by investing in equitable funding models and partnerships.
Three programming changes are underway, however, that will enable us to serve our community more effectively and equitably:
In 2020, we took over full management of The Right Brain Initiative, the nationally-recognized arts integration program that has transformed school districts across the region. As a partner in this initiative for the last fifteen years, we are proud to continue providing the same high-quality partnership with our participating school districts, and have made changes to the funding structure to ensure long-term sustainability and greater access to services for low-income and rural schools.
In 2021, we officially revamped our long-running Run for the Arts jog-a-thon, a school-based fundraiser which provided dedicated arts funding for participating schools. This fundraiser was incredibly successful, bringing in over 18 million dollars in arts funding for schools over the decades, but had the unintended effect of contributing to an inequality in which schools received the most funding. This program is now Fun for the Arts, a dance-a-thon that harnesses the power of community-based fundraising and equitably distributes funds across all participating schools.
Our professional learning cohort for artists working in schools and communities, Teaching Artist Studio, went virtual in 2021 during COVID-19 shutdowns. This led to the discovery that we could still provide robust training for adult learners through virtual platforms, and expand the participation in this program to include more geographically diverse participants. In 2022 we partnered with Lane Arts Council to serve teaching artists in Lane County, and in 2023 will be bringing in more partnering organizations to expand this impactful program statewide, addressing the regional need for training for artists working in arts education.
These changes, along with our new name, clarify our role in the community not just as a provider of arts education services, but as an advocate and champion for abundantly equitable access to the arts for all young people.
We want to transform our region to be one where the arts are celebrated, abundant, and available in all schools
Executive Director Lauren Jost, who joined the organization in 2021, explains, "The arts are an inherently transformative experience. Whether you are watching a performance, experimenting with a new material in the studio, or collaborating with a group to write a song together, you are engaged in creating something that wasn't there before — transforming an idea or raw material into a meaningful experience or expression. This sense of connection, possibility, and innovation is at the heart of our organization's identity, as well as the core of our programs. We want to transform our region to be one where the arts are celebrated, abundant, and available in all schools, instead of the first thing to be cut. That is a cultural shift we can't achieve on our own, so we are building partnerships with school districts, state legislators, fellow non-profits, and individual artists so that we can create that transformation together. The Pacific Northwest is known for its creative economy, and we are committed to providing robust arts education for the next generation of artists, innovators, and change-makers."
Arts for Learning Northwest will remain a member of the Young Audiences Arts for Learning national network, which collectively serves over 5 million young people annually, as it has since 1958.
Explore our programs at ArtsforLearningNW.org.