This last year, when we were developing our strategic plan, one surprising word kept coming up: advocacy. We asked ourselves, "Are we advocates? Do we really advocate for more arts education?" We discovered that we advocate to our community for more equitably accessible arts education all the time through our programs, partnerships, and our focus on closing the gap in arts accessibility for historically marginalized and oppressed young people. But this year, as "Advocacy" became a pillar of our strategic plan, we decided to also formally advocate to our state lawmakers for increased public funding for arts education. Here are two stories from staff members about what that looks like in action.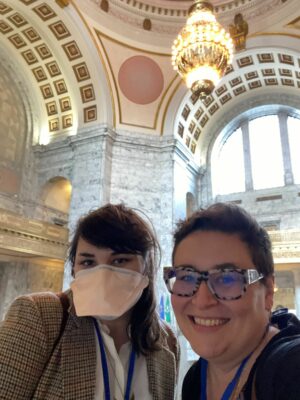 In February, Community Engagement Manager Koko Olszewski and two other Arts for Learning staff members joined Inspire Washington for a cultural advocacy day in Olympia, Washington. "Going to Olympia to advocate for arts funding was a new experience for many of the staff who attended from ALNW. When we arrived we had the opportunity to gather with all of the other arts, science, and heritage advocates for a land acknowledgement, pep talk and run down of what bills were on the docket from Inspire Washington, and a little pre-game karaoke! Nothing like a little group Journey shout-along to get your blood pumping. After the morning kick-off, we were partnered with someone from the Inspire Washington board to help prep us for our first meeting which was a little nerve-wracking, but with their support and guidance we were really prepared! The first meeting went so well and really gave us the energy we needed for the rest of the fast-paced day. I really enjoyed getting to share with reps in district 17 & 20 about the work we are doing in some of their schools and extending invitations for site visits once session is over. Advocacy aligns so much with my work at ALNW because it combines outreach, community engagement and advocating for equitable funding for our school partners." You can learn more about how to join Inspire Washington's Inspiration League here. 
Later in the month, Executive Director Lauren Jost joined hundreds of other arts advocates in Salem, Oregon to celebrate the formation of the Arts and Culture Caucus in the Oregon State Legislature. "I know we Oregonians think of ourselves as a very creative state, so I was surprised to learn that there was not an Arts and Culture Caucus until now! I wasn't sure what to expect when I walked into the Elsinore Theatre, but I was greeted with a lobby full of excited artists, arts administrators and advocates, and state legislators. It felt thrilling to be gathering in person with our whole community, and felt more like a party than official business. I met many other arts leaders who I had previously only encountered on screens, and thoroughly enjoyed all the amazing performing artists and speakers who came onstage to celebrate the new caucus. The bipartisan caucus started with nine members, but the event was so inspiring and motivating that this list grew to over a dozen legislators by the end of the evening, and  Democratic state Rep. Rob Nosse, who organized the caucus, said that his goal is that the caucus will eventually include every single representative in the legislature. I also learned that Oregon is 30th in state funding for the arts, which seems out of line with the resources, talent, and vision of our state, and I can't wait until the arts and culture advocacy day in Salem next month to go meet our legislators and encourage them to approve an increase  in the budget for the Oregon Arts Commission for the first time in over a decade." You can join Lauren in this advocacy by signing up with the Cultural Advocacy Coalition of Oregon and write or visit your own representatives!