Fun for the Arts T-Shirt Design Contest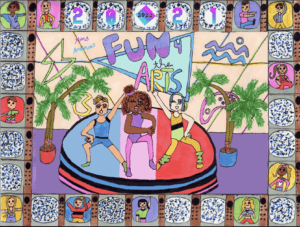 Over the last 43 years, Young Audiences Fun for the Arts has helped schools secure nearly $18 million dollars for arts experiences and has become an established Northwest tradition. One of the most exciting parts of this tradition is the yearly student-designed T-shirt and printed materials.
Your student's artwork could be featured on thousands of shirts, posters and sponsor sheets.
Designs should incorporate themes and images relating to Young Audiences Fun for the Arts, including a variety of art forms (theater, music, dance, etc.) and community.
Submissions must come from K-12 students in Oregon or SW Washington
All submissions must include entry form signed by the student's parent/guardian
One design entry is allowed per student
Collaborative work is allowed. The prize would be split amongst collaborators. Each student must submit a separate entry form
If digital, send submissions to kokoo@artsforlearningnw.org, name file: "student name_grade_schoolname" ex. "kokoolszewski_3_woodlawnelementary.jpg"
If paper, mail to:Young Audiences: 1220 SW Morrison St, Suite 1000, Portland, OR 97205
Design content will open in May 2023